With ratings fall, Jay Leno show is 'everybody's favorite pinata'
'The Jay Leno Show' has taken a drubbing from critics and seen ratings plunge, raising questions about NBC's strategy in a difficult time for broadcast television.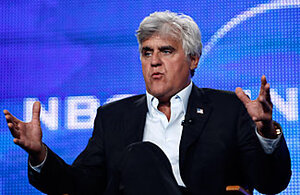 Matt Sayles/AP/File
Jay Leno may not be a "whiner," as he put it in response to the criticism his new 10 p.m. prime time show has faced. But this week, he certainly had plenty to worry about as his freshman variety show on NBC, airing five nights a week against mostly scripted dramas on the other networks, fell behind a re-run of CSI: Miami.
After debuting to impressive numbers on Sept. 14 – some 18 million viewers – "The Jay Leno Show" over the past two weeks has settled into nearly identical ratings as its late-night predecessor, roughly five million viewers nightly. NBC had maintained that it would be satisfied with lower ratings as long as the show earned a net profit (a talk show costs a fraction of a scripted show, which can top $4 million per episode). But it had asserted that the show would shine when the other channels were airing re-runs.
Even worse, in what has already been dubbed "the Leno effect" – audiences lost by 10 p.m. often don't return for later programs – ratings for NBC's two, later talk shows with Conan O'Brien and Jimmy Fallon are also down and viewership for the 11 p.m. news programs at NBC affiliates from Miami to New York is off by nearly a third.
---