Texting while driving: the new drunk driving
Texting and driving – and gadgets like iPods and GPS devices – are a public safety epidemic.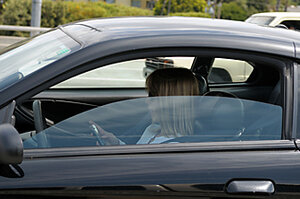 Newscom
Jennifer Smith, a Texas real estate agent, remembers when she considered her car an office, her cellphone a professional lifeline. If it rang, she picked it up. If she thought of information to share, she dialed. She knew that it wasn't the best idea to chat while driving, of course, but it wasn't illegal, and she didn't want to lose clients. Besides, she figured, she was careful.
But then, in September last year, a driver using a cellphone plowed through a red light and slammed into Ms. Smith's mother's mini-SUV. Linda Doyle, who'd been on her way to pick up cat food for the Central Oklahoma Humane Society, where she was a regular volunteer, died the next morning.
During the excruciating months that followed, Smith couldn't shake the feeling that something about the crash didn't make sense. The driver who killed her mother was a sober, churchgoing 20-year-old who'd never even had a speeding ticket. He had been on the phone for less than a minute. Visibility on the road was excellent. But the police report said that when a trooper asked him what color the traffic light had been, the distraught young man responded that he never saw it. He'd crashed into the driver's side of Ms. Doyle's car at nearly 50 m.p.h.; there weren't even skid marks at the scene.
"He's a good kid," Smith says. "He is you and I. He is not just a teenager who doesn't care. I didn't understand how someone like that could just drive through a light without seeing it. So I started researching."
---