Report: GPS parole monitoring of Phillip Garrido failed
A California Inspector General report Thursday slammed the state parole system for failing to track Phillip Garrido, the convicted sex offender who kidnapped Jaycee Dugard.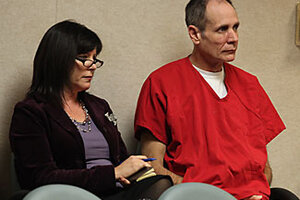 Rich Pedroncelli/AP
In California, a Global Position System (GPS) device is strapped to every registered sex offender on parole. The system is supposed to keep the public safe – and make it easier for parole agents to track dangerous felons. But that system is broken, and giving the public "a false sense of security," according to a new report.
California Inspector General David Shaw issued a 40-page indictment Wednesday of the state's parole system for its failure to keep track of parolee Phillip Garrido, the convicted sex offender arrested in August for the 1991 kidnapping of Jaycee Lee Dugard.
The report offers some of the most detailed information released to date on events leading up to Mr. Garrido's arrest and is filled with any number of disturbing elements. The inspector general found that parole agents originally failed to classify Garrido, convicted of a brutal rape in the 1970s, as a high-risk parolee, missed opportunities to discover Ms. Dugard and her two children, and didn't act to investigate numerous possible parole violations.
"Despite numerous clues and opportunities, the [California Department of Corrections and Rehabilitation], as well as federal and local law enforcement, failed to detect Garrido's criminal conduct, resulting in the continued confinement and victimization of Jaycee and her two daughters," the report stated.
---