Colts vs. Patriots: a reality check for Peyton Manning
Peyton Manning has lead the Indianapolis Colts to their undefeated start. But the latest installment of the Rivalry of the Decade against the New England Patriots presents him with a huge challenge.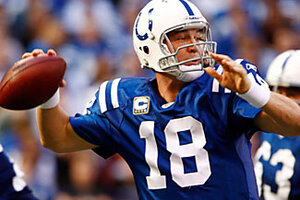 Brent Smith/Reuters
Sunday night, the New England Patriots mark Peyton Manning's date with reality.
Manning's Indianapolis Colts are 8-0. In those eight games, he has thrown for more than 300 yards seven times. With half the season gone, he is on pace to break Dan Marino's record for passing yardage in a season – roughly the equivalent of throwing a football to the top of Pikes Peak in 16 games.
And yet, it could be argued, the Colts have not yet played a quality team.
That ends Sunday with the latest installment of the Rivalry of the Decade against the New England Patriots.
Manning is as responsible as any single football player can be for his team's 8-0 start. The Colts enter the game against the Patriots not only undefeated, but also missing three of their four starting defensive backs, one of their starting three linebackers, their No. 2 receiver, and running the ball worse than 26 of the 31 other teams in the NFL.
In today's salary-cap NFL, where winning is the art of minimizing deficiencies, Manning is like an industrial size vat of White Out, making the Colts looks cleaner than they actually are.
Yet teams the caliber of New England – and coaches as innovative as Bill Belichick – have a way of exposing their opponents' weaknesses, leaving Manning once again in the position of the Patriots' lab rat.
It is a role to which Manning will be accustomed.
For the first half of The Rivalry, Manning led the league in despondent headshakes per game. From 2001 to 2004, the Colts lost six consecutive games to the Patriots, including two in the playoffs. Manning looked like nothing so much as a grade schooler called to the blackboard to solve fractals.
---