Colts vs Patriots 2009: Pass the smelling salts - to Belichick, too
Over an eight-year rivalry, Colts vs Patriots 2009 is the most outlandish. Credit a moment of madness by Belichick.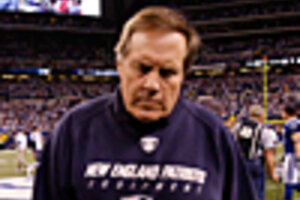 Nam Y. Huh/AP
By midnight, former Patriot turned broadcaster Rodney Harrison – a man so ferocious he was once voted the NFL's dirtiest player – was marshalling all his strength to keep from weeping like a child on the air. Boston talk radio hosts were yelling at one another as though on the verge of blows. And across New England, disbelief rose like a mushroom cloud.
Somehow, improbably, unbelievably, the New England Patriots had lost to the Indianapolis Colts Sunday night, 35-34.
Over 12 games between Patriots and Colts since 2001 – a series of games rightly deemed the Rivalry of the Decade – there has been none as outlandish as this. In fact, Steve Sabol and his NFL Films crew would be hard pressed to find many equals among his reels of football history for the title of Most Dramatic and Mind-Boggling Turn of Events to End a Game of Football.
It was not merely the fourth-quarter comeback engineered by Colts quarterback Peyton Manning – shackled for so much of the game, so often mumbling to himself like some hobo as he trudged from the field – that made this game extraordinary.
It was not that last diving catch by Colt receiver Reggie Wayne that left the fan asking for smelling salts, wondering if he was actually being "Punk'd" by Al Michaels.
---