Shuttle launch: Now, Atlantis becomes a moving van
The successful space shuttle launch Monday marks an important shift for the shuttle program. From Atlantis onward, the shuttles' primary job is to ferry large parts to the International Space Station.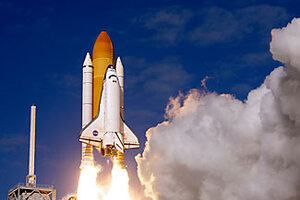 Terry Renna/AP
It was as pretty a shuttle launch as you're ever going to see – some broken clouds notwithstanding.
Now, NASA's space shuttle Atlantis and its six-member crew are making as direct a beeline as orbital mechanics will allow toward the International Space Station.
Monday afternoon's shuttle launch marks a shift in the shuttle program from NASA Construction Engineers LLC to NASA Van Lines.
The cargo on the 11-day mission consists mainly of large-scale spare parts – the first of five trips between now and September 2010 dedicated to stuffing every nook and cranny on the station with hardware it will need to serve as a orbiting lab through at least 2015, and possibly 2020.
The one remaining construction task comes in February, when one last "shirt-sleeve" module, "Tranquility" and its multi-windowed cupola, ride up on the shuttle Endeavour for installation.
Yet the realization that the end is near for the venerable shuttles, which NASA plans to retire in September 2010, also is sinking in.
For the past 28 years, and through two fatal accidents, shuttle crews have launched spectacular unmanned missions to Jupiter and Saturn. The orbiters have served as early versions of an orbiting lab with Spacelab and other research platforms. Crews have has launched, healed, then maintained the Hubble Space Telescope – arguably NASA's and the European Space Agency's most effective cosmic ambassador. And the orbiters have served as an international gateway through which the Japanese, Europeans, and other international partners have taken their initial footsteps in human spaceflight.
---