The mystery of the mastodons gets a few big clues
When and how mammoths and mastodons went extinct has long puzzled scientists. But a new study suggests the animals vanished much earlier than previously thought.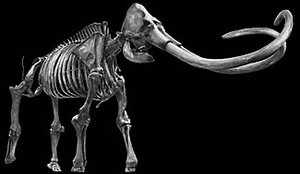 The Page Museum at the La Brea Tar Pits/Reuters
Ever since Europeans first uncovered mastodon fossils along Big Bone Lick in Kentucky in 1739, the demise of these huge animals and other lumbering contemporaries at the end of the last ice age has been an enduring puzzle to paleontologists.
Now, a team of researchers has evidence that woolly mammoths, huge ground sloths, and other Pleistocene giants became extinct earlier than previously thought.
The results appear to rule out at least one explanation scientists have offered up to explain the creatures' demise: an asteroid strike. Other theories – such as climate change and human hunters – remain possible, though the findings would shift the timeline more than 1,000 years backward.
Moreover, the research intriguingly suggests that the decline led to significant changes in the types and groupings of different plants within the animals' range, as well as an increase in the number of wildfires. In other words, it could have literally altered the landscape.
An 'elegant' study
The work, which was conducted at Appleman Lake in Indiana, is "elegant," says Eric Scott, a paleontologist at the San Berbardino County Museum who focuses on Pleistocene fossils, in an e-mail.
It neatly sidesteps a significant challenge paleontologists studying this issue face: "There is lack of sufficient numbers of well-dated vertebrate fossils, from multiple sites, from the time period in question," writes Dr. Scott.
---