In Chicago, mixed feelings about end of Oprah Winfrey show
The loss of Oprah Winfrey's show could affect local tourism and businesses in Chicago. But many Chicagoans seem unconcerned about her potential departure from the city.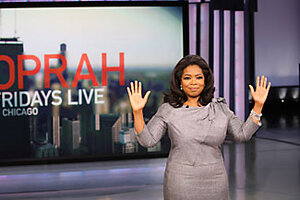 George Burns/Harpo Productions, Inc./AP
Oprah Winfrey's announcement Friday to end her daytime talk show in 2011 after 25 years sent tremors through the media landscape. It also ruined Joel Nickson's day.
Lunchtime crowds may never be the same at Wishbone, the Southern-themed restaurant Mr. Nickson co-owns and which is located across the street from Harpo Studios, Ms. Winfrey's studio in Chicago's West Loop neighborhood. The talk show host, who once taped her show in the restaurant, is known to order takeout from there. On taping days at the studio, Nickson says, business automatically spiked 15 percent.
"I don't think people realize how many people come in [to the restaurant] from out of town, even when there's not a show," Nickson says. For the neighborhood, he says, Winfrey's decision is "depressing news in what has not been a banner year."
What Winfrey's multimedia powerhouse will look like after Sept. 9, 2011, the date of her last show, remains unclear and Winfrey did not drop any hints during Friday's show, which is the last live show of the calendar year. But among regular Chicagoans, reactions to the news about Winfrey's show has been muted.
The reason for the latter, says Chicago Tribune media critic Phil Rosenthal, is that though Winfrey first came to Chicago in 1984 as the host of "AM Chicago," she never fully became a true Chicagoan in the manner of other local heroes, from former Chicago Bears coach Mike Ditka to actor Vince Vaughn.
---