At climate talks, US to offer 17 percent emissions cut by 2020
From a 2005 baseline, a 17 percent emissions cut would fall short of what's needed to keep global warming to 3.6 degrees F. But it may reflect most that US Senate would OK from climate talks.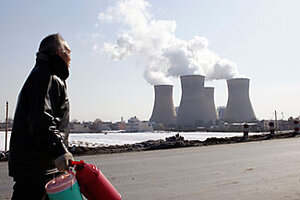 Carlf Zhang /Reuters
The Obama administration announced Wednesday that the president will attend, briefly, global climate talks set for next month in Copenhagen. The White House also unveiled the greenhouse-gas targets it will present, on the condition that what the US can ultimately offer hinges on the outcome of energy and climate legislation currently before Congress.
The announcement comes as welcome news to officials with the United Nations Framework Convention on Climate Change (UNFCCC), the overarching climate treaty under which the negotiations are taking place.
President Obama's presentation of specific targets, though provisional, is "politically critical" to progress in Copenhagen, says Yvo de Boer, executive secretary of the UNFCCC.
Speaking to reporters at a briefing in Bonn on Wednesday, he added that Mr. Obama's one-day stopover, scheduled for Dec. 9, is vital.
"The world is very much looking to the United States to come forward with an emission-reduction target and to contribute international financial support to help adapt to the impacts of climate change," said Mr. De Boer. "If he can deliver on his election-campaign statements that Copenhagen needs to be a success, by coming to Copenhagen himself, that will be critical to a good outcome."
---