After space station is built, what will ISS crew do up there?
For years to come, the International Space Station will be the site for experiments benefiting earth research and extended space flight.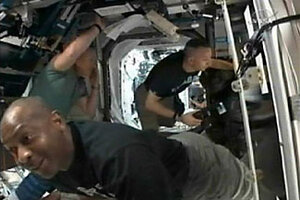 Nasa TV/Reuters
The US shuttle Atlantis undocked from the International Space Station Wednesday, beginning the homeward stretch of an 11-day mission that delivered spare parts to the orbiting outpost.
Now that NASA has begun putting the finishing touches to the International Space Station, it and partner agencies have been posting the equivalent of slick travel brochures complete with a photo montage of astronauts serving as lab technicians or wired up as test subjects.
It's one part of preparations for expanding the use of a space station that could remain on orbit through 2020 or even 2028.
NASA is doing studies to see if the certified lifetime of the station's structural pieces can safely be extended. Con­gress last year asked the agency to find ways to keep the station operating past 2015.
"We're doing a 30-year look at all the components," says space-station program manager Michael Sufferedini. "Assuming we get them all certified, we'll actually have a vehicle certified through about 2028."
---