Medical marijuana gains momentum – 13 states and counting
Support for medical marijuana - and outright legalization - is increasing across the US. But in some California cities, pot dispensaries have become unwelcome.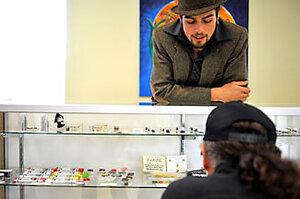 Russel A. Daniels/AP
Standing outside Sunset Holistic, a medical-marijuana dispensary on Hollywood Blvd., short-order cook Steve Jones still remembers the day 20 years ago when his college roommate was arrested for possessing an ounce of cannabis.
"Back then, marijuana was the evil ganja weed of 'Reefer Madness,' " says Mr. Jones. "Now they say it's medicine and you take it to heal.... What'll it be next, the corner ganjaria?"
The prospect suddenly doesn't seem so far out – and not just in California. Thirteen states allow for the legal possession and use of medical marijuana with a doctor's authorization, and several more are considering it. Though marijuana remains banned federally, the Obama administration has decided to end federal raids on medical-pot sellers in these states. And the American Medical Association recently made news when it called on the government to reconsider marijuana's classification as a dangerous drug to allow more medical research.
Medical-marijuana advocates call the trend progress, but opponents view it as an alarming first step on the road to outright legalization. States such as Massachusetts have already decriminalized possession of less than an ounce of marijuana.
"[I]t's basically the same thing as the government being in bed with drug traffickers. It sends the wrong signals to children – not just that it's OK to use marijuana, but that it's OK to use all drugs," says Gregory Lee, a retired Drug Enforcement Administration (DEA) agent and author of "Global Drug Enforcement."
---