Pearl Harbor Day 2009: three enduring mysteries
On Pearl Harbor Day 2009, here is a look at lingering questions such as: How did the Japanese fleet get so close to Hawaii without being spotted?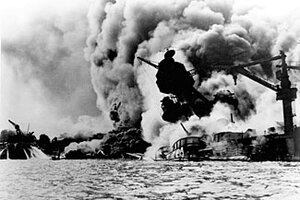 US Navy, File/AP
How did the Japanese do it? That question remains 68 years after the attack on Pearl Harbor, a day that spawned some of the greatest unanswered questions of US military history.
The completeness of the surprise, as well as the enormity of the attack's destruction, have led conspiracy theorists to surmise that President Franklin D. Roosevelt must have known what was coming, and allowed it, to rouse the nation for World War II.
Most historians don't believe that. The conspiracy theorists generally premise their arguments on the notion that the United States had broken the codes of the Japanese navy and thus knew its carriers were steaming toward Hawaii. But that's not true, according to Robert J. Hanyok, a former historian with the US National Security Agency.
In 1941, US code breakers had made only minimal progress in understanding encrypted Japanese navy messages, Mr. Hanyok writes in a recent Naval History magazine article.
"No intelligence about Pearl Harbor could come from this source," he writes.
A better explanation for the enormity of the US defeat might be that the attack was a so-called black swan event: something so far outside the realm of expectations that Americans could not conceive of it occurring.
This was true even of American servicemen looking at hints of what was coming their way.
---