Protest slogan on home pits zoning laws against free speech
A North Carolina man and the ACLU are suing Cary, N.C., after the town told him to remove a protest slogan he had painted on the side of his home. He says it's a free-speech issue, but the town argues he's breaking local zoning laws.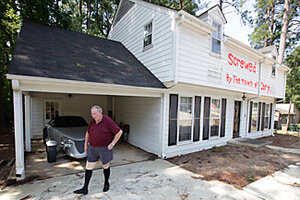 Courtesy of Shawn Rocco/ Newsobserver.com
There's political speech, commercial speech, and of course good old free speech. In Cary, N.C., there's also "house speech."
Amid the idyll of a carefully planned Sun Belt town stands a monument to one man's discontent: a white split-level ranch, its facade spray painted in garish fluorescent orange with the words "Screwed by the town of Cary."
A thumb-poke in the eye of a tony town, the fluorescent-orange lament of resident David Bowden has been a point of both embarrassment and amusement since he paid someone $200 to paint it in August.
Cary officials responded by threatening to fine Mr. Bowden unless he paints over the letters – and puts his protest on a five-square-foot sign, per the zoning laws. But wait. Enter the American Civil Liberties Union (ACLU), which recently filed a lawsuit that questions the town's ability to supplant political speech with communal taste, thus turning Bowden's bid to fight city hall with a can of spray paint into a First Amendment cause célèbre.
"It is possible that a court will say that the city ordinance does not discriminate on the basis of viewpoint or content," says Gene Policinski, executive director of the First Amendment Center at Vanderbilt University, in Nashville, Tenn. "But I think there's a better argument that this is political speech, and then there's a very high standard for when courts will allow [a town] to stop speech."
---