Gatorade drops Tiger - a hint of things to come?
Gatorade drops Tiger Focus drink – a decision made last month that could be a harbinger of problems ahead. Sponsors will want Woods to say something soon to blunt rampant media speculation.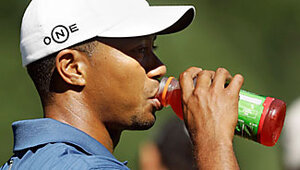 Lenny Ignelzi/AP/File
The froth of rumor and innuendo that has swallowed Tiger Woods's public identity could be nearing proportions that force his sponsors to reevaluate his value to them.
Gatorade will drop Tiger Focus, its drink linked with Woods, it announced Tuesday. But the decision was made before allegations of infidelity surfaced last month, and an industry publication reported the move before Woods's now-infamous car crash.
Still, it raises the specter of what Woods might face. With little prospect of the media's appetite for the story fading, pressure is building on Woods to offer a fuller accounting of his failures to blunt the salacious allegations now appearing almost hourly.
"What sponsors don't want to happen is what is happening now," says William Chipps of the IEG Sponsorship Report, a biweekly publication that provides analysis for sponsors. "He's letting the story spiral out of control. That's a roller coaster that his sponsors don't want to go on."
Just in the past 24 hours, that downward spiral has included his visiting mother-in-law being rushed to the hospital, reports of alleged prescription-drug abuse, and links to enough mistresses to field an entire baseball team.
---