Lakewood police memorial: killings may spur changes for offenders
The Lakewood police memorial honored the four officers who were killed in a shocking ambush on Nov. 29. Their deaths could affect how states consider commuting prison sentences.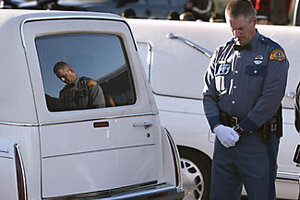 Drew Perine/The News Tribune/AP
Thousands of police officers from around the country gathered Tuesday for a Lakewood police memorial in suburban Seattle, honoring four colleagues killed in a shocking ambush on Nov. 29.
The ceremony amounted to the largest such gathering in the state of Washington's history, with more than 2,000 law enforcement vehicles – some from as far away as Boston and New York – snaking their way through Tacoma. Their destination was the memorial at the Tacoma Dome for the four from Lakewood, Wash. – Sgt. Mark Renninger and officers Tina Griswold, Greg Richards, and Ronald Owens.
The massive turnout for the memorial – hundreds of Washingtonians braved freezing temperatures to watch the procession – is a testament to the outrage over the killings. The deaths may eventually change how this state sets bail for repeat offenders – and they could even impact how other states consider commuting prison sentences.
Maurice Clemmons, who is accused of gunning down the officers in a Parkland, Wash., coffee shop, was a parolee from Arkansas with a violent criminal past who had been arrested numerous times in Washington. He was killed last Tuesday by a Seattle police officer after a massive statewide manhunt.
---