Pearl Harbor attack: Who was really to blame?
The Pearl Harbor attack launched many official investigations. Blame has been spread from on-scene military commanders to President Roosevelt himself.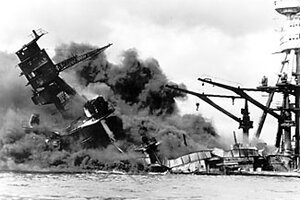 AP/File
Days after the Japanese attack on Pearl Harbor on December 7, 1941, Secretary of the Navy Frank Knox arrived in Hawaii. He'd been sent by President Roosevelt himself, with simple instructions: find out what happened, and how.
On December 16, Secretary Knox – a former journalist – issued a report that was full of vivid tales of US heroism to a still-grieving nation. He talked about the battleship captain who had refused to be evacuated from the burning bridge of his ship; the motor launch skipper who pulled those blown overboard from the flames of the burning harbor; and the mechanics who pulled machine guns from burning planes, and fired back.
Knox's secret report to FDR was more bracing. It counted up US losses and noted that US forces had been taken completely by surprise.
"Neither the Army nor the Navy Commandant in Oahu regarded an air attack on the Army air fields or the Navy Stations as at all likely," Knox wrote privately.
Investigations began immediately
In the aftermath of Pearl Harbor, investigations began immediately. In some ways, they continue today, as historians, journalists, and ordinary citizens debate the meaning and causes of what remains, despite September 11, the most shocking surprise attack in the nation's history.
Knox's trip was the first official probe. His public comments minimized the damage, so as not to give information away to the Japanese. His secret findings emphasized, among other things, the "meticulous detail" of the Japanese military's plans of attack, and "their courage, ability, and resourcefulness".
---