Result of Marion Jones doping scandal: a race that no one won
The IOC decided Thursday not to reallocate the gold medal that admitted drug-cheat Marion Jones won in the 100 meter sprint at the 2000 Olympics. Why? The silver medalist has also been linked with doping.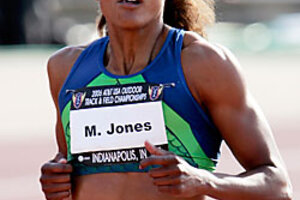 Darron Cummings/AP
For the first time in Olympic history, an event will go without a gold medalist because of doping.
The International Olympic Committee (IOC) announced Wednesday that it has reallocated medals that Marion Jones won in the 200 meters (gold) and long jump (bronze) at the 2000 Summer Olympics. The reallocation of the two golds she won as a member of the US relay team is still pending the outcome of an appeal at the Court of Arbitration for Sport.
But the gold medal won by Jones in the 100 meters – arguably the signature event of any Summer Games – will remain vacant.
Ms. Jones, who had been the first woman to win five track and field medals in a single Summer Games, surrendered her medals in 2007 when she admitted to making false statements regarding her use of performance-enhancing drugs to federal investigators.
Typically, medals won by Olympians later found to be drug cheats simply pass to the next highest finisher. But the silver medalist in the 100 meters that year was Greece's Katerina Thanou.
Ms. Thanou has also been tainted by doping. Though Ms. Thanou has not tested positive for banned substances, she missed a scheduled drug test prior to the 2004 games in Athens, claiming that she and her training partner had been in a motorcycle accident. She was subsequently banned from competition for two years by track and field's international federation on the suspicion that she had staged the accident to miss the test.
---