Healthcare holdouts: Joe Lieberman won't budge on public option
Sen. Joe Lieberman, an Independent who caucuses with Democrats, has been a key vote on important bills. He's been unwavering so far in his opposition to including any kind of public option in the healthcare reform bill.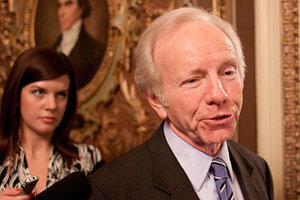 Harry Hamburg/AP
Ask Sen. Joseph Lieberman (I) of Connecticut if Democratic leaders are pressuring him on a vote and, typically, he just laughs.
But he has fast become the decisive vote on key pieces of legislation – and appears poised to play that role again on healthcare reform.
So far during the Obama administration, Senator Lieberman has voted the Democrats' way and carried the Democratic flag. In February, he cast a key vote on President Obama's stimulus plan. Last week, he emerged as the president's lead defender on the decision to "surge" troops into Afghanistan. On Thursday, he joined Sens. John Kerry (D) of Massachusetts and Lindsey Graham (R) of South Carolina in making a case in the Senate for climate-change legislation, another Obama priority.

But on healthcare reform? Lieberman has been out front for months about his dislike for one particular idea favored by most Democrats: the so-called public option. Not only does he oppose empowering the government to provide health insurance to qualifying Americans, but he says he will join Republicans in filibustering the bill if the public option is in it.
"My opposition to a government-run insurance option, including any option with a trigger [a default to a public option if private insurers do not hit affordability targets], has been clear for months and remains my position today," he said in a statement Wednesday, in response to reports that liberal and centrist Democrats had reached a deal on the issue.

If there's a problem with an industry, he says, government should regulate it, not seek to replace it.
---