Boeing 787 Dreamliner poised for first flight
Boeing's 787 Dreamliner is set to attempt its first flight Tuesday after years of delays. The company's first new jetliner in almost 15 years, the plane is made of lightweight composite materials and supposed to reduce fuel costs by 20 percent.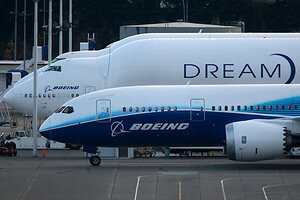 Joshua Trujillo/Seattle Post-Intelligencer/AP
After two years of delays, Boeing's newest commercial aircraft – the 787 Dreamliner – is scheduled to make its first test flight Tuesday afternoon.
If everything goes as planned, the new airliner will be a major accomplishment for Boeing, which has been having labor and supply issues. It's Boeing's first all-new jet in nearly 15 years.
As the first airliner to be constructed mainly of lightweight composite materials – carbon and titanium – the 787 also sets the pace for the next generation of more efficient commercial aircraft.
"It's more environmentally friendly, it's more efficient, uses less fuel, it's going to cost the operator less to fly, it's going to allow the passengers to pay less and feel better when they land," Jim Albaugh, Boeing executive vice president and CEO, told CNN Monday.
Boeing claims the new design, in which it has invested some $10 billion, can save as much as 20 percent in fuel costs. It's also designed to produce fewer emissions. Rival Airbus is also developing an airliner made mostly from composite materials – the A350.
---