Tarmac delays: how the airlines rank as US cracks down
A new federal rule will prohibit airlines from keeping passengers on the tarmac for more than three hours.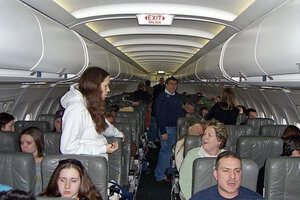 Lou Martins/AP/File
Now tarmac delays will be more than just bad publicity: Keeping passengers out on the runway for more than three hours will be a violation of a new federal aviation rule, the Transportation Department said Monday.
The new rule also calls for carriers to provide "adequate food and potable drinking water for passengers within two hours of the aircraft being delayed on the tarmac and to maintain operable lavatories," according to a news release announcing the decision. And the rule requires steps designed to reduce delays and increase the transparency of the airlines' performance.
The regulations come in the wake of some high-profile cases in which planes have been stuck on runways for as long as 10 hours.
Which airlines have the worst record this year? Here are the five airlines for which tarmac times exceeded three hours most often, along with the number of these incidents, according to a tally of monthly numbers reported by the government through October:
Delta: 110 flights
US Airways: 79
United: 65
American: 58
JetBlue: 56
The accompanying chart shows fuller data, ranking 19 large airlines, with numbers from the Bureau of Transportation Statistics (BTS). Although Delta has the most three-plus-hour incidents, JetBlue ranks as the airline on which passengers are most likely to see "taxi-out" time exceed three hours, according to the BTS data. That's the same airline that made headlines two years ago for a Valentine's Day flight on which passengers were stuck on the ground in New York for nearly 11 hours.
Such occurrences are rare for all airlines. But at JetBlue, it occurs about once every 3,000 flights, versus an industry average of about one flight in 10,000.
---