San Jose police get ear-mounted video cameras in battle for image
A few police in San Jose, Calif., will test ear-mounted video cameras to record their interactions with the public. The pilot technology advances the police point of view at a time when bystander cellphone video often shapes perceptions of police behavior.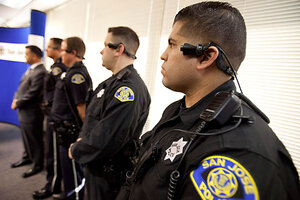 Dai Sugano/San Jose Mercury News/AP
Cellphone videos of police in the throes of disruptive arrests have become something of an Internet fixture. A new one seems to pop up on YouTube weekly, usually provoking a torrent of criticism aimed at officers. Sometimes it's warranted, sometimes there's more to the story.
But in a sign of video's rising importance in police-citizen encounters, at least one police department is taking steps to ensure the officers' point of view is also recorded.
Eighteen patrol officers in San Jose, Calif., where police have recently come under fire over allegations of abuse, are the first in the country to test ear-mounted cameras (which resemble Bluetooth headsets) that can record everything the officer sees. Other police departments are reported to be testing shoulder-mounted cameras.
"Everyone has video cameras out there today," says Tom Smith, chairman and cofounder of Taser International, the Arizona company that developed the Axon video system and also makes the controversial Taser stun guns carried by 400,000 police officers worldwide. When a bystander records an arrest on a cellphone video, he says, "typically they only capture the incident after it happens." The ear-mounted cameras allow the police officer "to capture the beginning of the event from their perspective."
Taser International is paying for the San Jose pilot test of a system that would cost as much as $2,888 per officer for the first year of use if the department decides to keep the system, according to the San Jose Mercury News.
Video's role in police abuse cases
---