Facing glut of Chihuahuas, California shelters fly pets east
California's craze for Chihuahuas (thanks, Paris Hilton) has led to a surfeit of the tiny dogs in local animal shelters. Now a campaign is raising money to fly them to find homes in other states nearby and on the East Coast.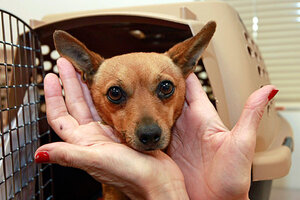 Damian Dovarganes/AP
Call it the great Chihuahua migration of 2009. Dozens of the itsy-bitsy hounds have been flying out of California, where their popularity and pop culture status has translated into a crisis for animal shelters, and are headed for new homes – or handbags – in other states.
Fifteen Chihuahuas with tickets to New York City Tuesday had their flight plans nixed due to the recent snow storm. But 40 tiny dogs departed Monterey County on Monday to Denver and about 60 have jetted off from Los Angeles to shelters in New Hampshire, thanks to a little help from a celebrity animal lover and sympathetic airlines.
The age of instant communication has been something of a blessing for shelter dogs. In the aftermath of Katrina, animal lovers took to the Internet to find homes for hundreds of abandoned dogs. Now the plight of the California Chihuahua is being spread on Twitter and Facebook.
When a group of Bay Area animal shelters held a press conference earlier this month to call attention to their Chihuahua problem, lovers of the purse-size pooches mobilized. Actress Katherine Heigl, of TV's "Grey's Anatomy," helped fund their trip to New Hampshire and Project Flying Chihuahuas was soon launched to find other homes for the dogs, which are now the most common breed in California shelters.
---
Follow Stories Like This
Get the Monitor stories you care about delivered to your inbox.