US incomes, consumer spending see gains in November
US personal incomes rose for the fifth straight month, spurring an increase in consumer spending and buoying hopes for an economic rebound. However, the gains appear to depend heavily on government stimulus programs.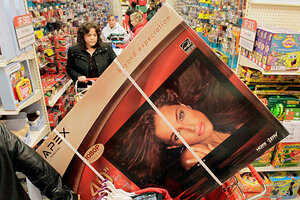 Amy Sancetta/AP/File
American incomes rose in November for the fifth straight month, providing much-needed traction for economic recovery.
The overall personal income earned by Americans rose by 0.4 percent in the month, according to numbers released by the Commerce Department Wednesday.
That fueled a gain in consumer spending, which rose 0.5 percent from October.
Another jolt of positive news: Consumer confidence rose in a December survey by the University of Michigan and Reuters.
The picture is still not one of a brisk rebound for the economy. Much of the gain in incomes continues to come from government stimulus programs, and the gains in income and spending are smaller when inflation is taken into account. (Adjusting for inflation, personal income rose 0.2 percent in November. The gain was just 0.1 percent when the impact of government transfer payments is subtracted.)
Still, the report bolsters the confidence of forecasters that the economy is beginning to find its footing. Treasury Secretary Timothy Geithner weighed in with guarded optimism Wednesday, saying in a morning interview on ABC that it's reasonable to expect "positive job growth" by spring, and that people should have confidence about an improving economy.
---
Follow Stories Like This
Get the Monitor stories you care about delivered to your inbox.