Culture wars over Christmas displays: where the law stands
Christmas displays have been a big part of the culture wars for years, and 2009 is no different. Hot spots include Sonoma County in California, where angel and star ornaments in government buildings caused controversy.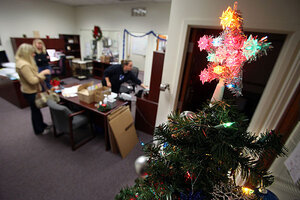 Newscom
It's become as much of a holiday tradition as eggnog and tree-trimming. Controversies over religious displays during the Christmas season have been stirring emotions for years, and 2009 is no different.
The latest dispute cropped up in California's Sonoma County, when an atheist complained that the stars and angels on Christmas trees amounted to a government endorsement of Christianity. Earlier this week, the ornaments in question were banned.
"People can worship in their homes. They can celebrate Christmas in their church. They can do all that," Irv Sutley, an atheist activist, told the Santa Rosa Press Democrat. "They just don't have the right to intrude on government property."
Later in the week, however, after the incident received widespread attention, the ban on the ornaments was lifted.
The legal standard for holiday displays was established by the US Supreme Court in 1989 in the case Allegheny v. ACLU. The court ruled that a Nativity scene at a county courthouse in Pittsburgh was a violation of the Constitution's "establishment clause" (prohibiting government establishment of religion), the foundation for separation of church and state. But the court also ruled, in the same case, that there was nothing unconstitutional about a display of a Hanukkah menorah on city property, and in a separate ruling the court decided that municipalities can use religious elements in Christmas displays if they don't appear to advocate any one religion.
---