Will Yemen air strike change view of Fort Hood shooting?
Yemen's air strike on Al Qaeda Thursday reportedly targeted Anwar al-Awlaki, the radical cleric linked to the Fort Hood shooter. If true, it could alter Americans' understanding of the Fort Hood rampage.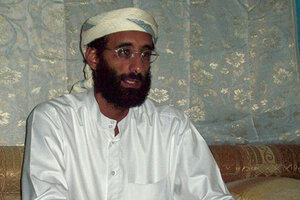 Muhammad ud-Deen/AP/File
A counterterror airstrike in Yemen that may have targeted Anwar al-Awlaki, the extremist cleric linked to Fort Hood shooter Maj. Nidal Malik Hasan, could raise new questions about whether Hasan's rampage in Killeen, Texas, on Nov. 5 was the act of a lone wolf or part of a conspiracy.
The strike Thursday morning reportedly killed two Al Qaeda leaders, and possibly Mr. al-Awlaki, and was conducted with the help of the US. The Pentagon is spending about $70 million this year to help Yemen fight Al Qaeda in a new front against terrorism.
---