Detroit attack: terrorist once again confounds airport security
From 9/11 to the Christmas Day attack on Northwest Flight 253 over Detroit, terrorists have changed their tactics to get around airport security.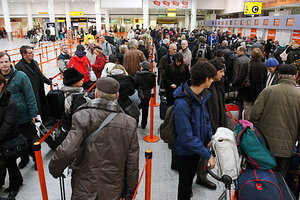 Luke MacGregor/Reuters
The failed attempt to blow up a US airliner over Detroit on Christmas Day shows how terrorists are adapting in their attempts to evade upgraded airport security.
Umar Farouk Abdulmutallab was charged Saturday with trying to blow up Northwest Flight 253. The way he allegedly tried to blow up the plane confounded not only airport security, but also authorities. One high-ranking law enforcement official told CBS News said it was a technique not seen in previous attempted attacks.
Investigators say the Nigerian had hidden 80 grams of an explosive in a plastic bag – perhaps a condom – and had it sewn into his underwear. He then tried to ignite the powder by injecting a detonating liquid with a syringe.
"The explosive material burned but apparently did not produce enough of an explosion or fire to bring down the Airbus 330," CBS reported.
Part of a pattern
Mr. Abdulmutallab has told investigators that Al Qaeda operatives in Yemen sewed the explosive into his underwear and provided him with the detonating liquid, reports say. If true, the attack would fit into a pattern of terrorists finding loopholes in airport security.
---