Security after Christmas Day attack: knee-jerk or necessary?
Some of the security measures in the wake of the failed Christmas Day terrorist attack on a Detroit-bound international flight are already being eased.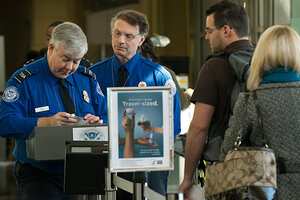 Newscom
The thwarted Christmas Day terrorist attack aboard a US-bound flight triggered heightened security measures that severely restrict airline passenger mobility, resulting in flight delays and setting off a heated debate over airport security.
On one Air Canada flight from Toronto to New York Monday, passengers were reportedly told to remain seated for the entirety of the flight and were not allowed to use electronics. Passengers were also not allowed to access their personal belongings on the flight because of 'enhanced security procedures', " according to the Associated Press.
Some of the new measures – which include increased passenger searches, limits to carry-on baggage, restrictions to on-board movement, and limiting on-board restroom access – may be temporary. But Friday's incident aboard a Northwest Airlines flight from Amsterdam to Detroit appear likely to bring about some permanent changes in an effort to keep pace with the evolving threat of terrorism.
---