Five signs to measure economic recovery in 2010
Economic recovery in 2010 is likely to fall short on job growth. But higher jobless figures might not be a bad thing – if it signals people are looking for jobs again.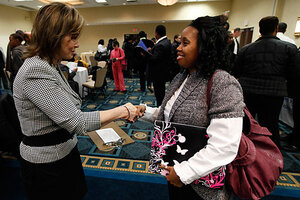 Matt Rourke/AP
Economic recovery is in the air as America emerges from the longest – and worst – recession since World War II.
So what's next for the US economy in 2010?
Perhaps most important, new jobs may be created. Also, home prices may inch up, and many Americans may feel a little better about the state of their pocketbook.
But unlike in past recoveries, the economy is not expected to snap back and bring smiles to everyone on Main Street. Instead, the unemployment rate is expected to stay uncomfortably high, businesses may remain timid about expanding, and some Americans are going to grumble that the recovery has not included them.
"It's going to be a slog," says Mark Zandi, chief economist at Moody's Economy.com. "What we have been through is an abyss."
Because the downturn has been so steep and so long, some are concerned that the recovery might falter, turning into the dreaded "double dip" recession. Under that scenario, the fragile economy runs out of steam as the fiscal stimulus measures end and consumers remain wary of spending much.
According to most economists, however, America's gross domestic product could grow about 3 percent next year. In a normal year, that would be good. But given the shocks the economy has experienced, will it be enough to help reduce unemployment and ease other economic difficulties?
As the new year gets under way, here are five signs to watch for that would show the recovery is staying put:
1. The economy starts to produce jobs – and unemployment rises
By spring, corporations will begin adding jobs instead of reducing their payrolls, some economists say. But job growth will be agonizingly slow.
---