Minnesota, Ohio join lawsuit against Illinois over Asian carp
Minnesota and Ohio joined Michigan in its lawsuit to close an Illinois canal connecting a tributary of the Mississippi River to Lake Michigan. The states say the invasion of Asian carp through the canal could destroy the Great Lakes ecosystem.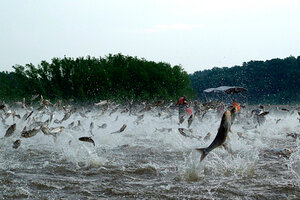 Nerissa Michaels/Illinois River Biological Station/Detroit Free Press/AP
Minnesota and Ohio have joined Michigan in a lawsuit against Illinois in the battle keep Asian carp from the Mississippi Basin from invading the Great Lakes through a historic Chicago canal.
Minnesota Attorney General Lori Swanson announced her state's involvement in the lawsuit on Monday after judging that the presence of the Asian Carp along the state's 149-mile shoreline on Lake Superior would directly threaten the state's commercial and recreational fishing industries, which together generate $2.7 billion.
"We pride ourselves on outdoor recreation; we call ourselves 'The Land of 10,000 Lakes'," she said in a phone interview. "We do think it is a public emergency."
The total revenue from fishing and tourism on the Great Lakes amounts to $7 billion.
---