Which states are facing the worst budget deficits in 2010?
Many states fell into a fiscal hole in 2009, and continue to lag behind in economic recovery. A look at ten states facing the biggest budget problems in 2010.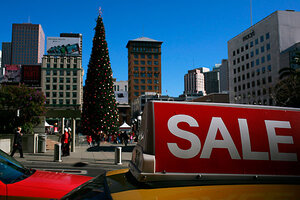 Robert Galbraith/Reuters
The national economy may be in recovery, but most states haven't yet hit bottom – and many are already facing massive budget gaps halfway through their fiscal year, despite basing those budgets on dismal forecasts.
"Unless you're North Dakota, you're probably a state that has had some degree of difficulty or crisis involving finances," says Arturo Pérez, a fiscal analyst with the National Conference of State Legislatures (NCSL), which released its survey of state budget situations earlier this month. "It's the worst situation states have faced in decades, perhaps going as far back as the Great Depression in some states."
The result: furloughs, deep cuts to state programs and services, fee and tax hikes.
"The next couple of calendar years will be some of the worst in terms of the tough choices that elected officials will have to make," says Scott Pattison, executive director of the National Association of State Budget Officers, adding that the stimulus funds that benefited states will soon be drying up, make the situation even more difficult. "There's not a lot left to do that aren't really really tough political choices."
Heading into 2010, here are some of the states facing the toughest fiscal challenges:
---