Bruins and Flyers put classic in hockey's Winter Classic
Fenway Park's 'ice game' reminded many why hockey is so great, though the indoor game still lacks draw for many.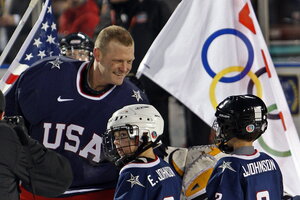 Jim Davis/Boston Globe/AP
Why is the NHL's new Winter Classic tradition the league's best move since the salary cap?

This year's outdoor New Year's Day battle between the Boston Bruins and Philadelphia Flyers summed it up: Take a classic venue – Fenway Park – impose an inexplicable image (a hockey rink on Yawkey Way), add some snowflakes and some greasy winter light, and it's an indelible flashback to childhood, at least for those born north of the Mason Dixon line.

Indeed, the Classic accurately defines hockey as a spectacle born of an innocent childhood experience, what Flyer D man Chris Pronger remembered as hitting the pond in the afternoon and finally getting off after many "just 5 more minutes" in a wintery dusk. (Read this Monitor article about hockey's return to its roots.)
Skate until dark
---
Follow Stories Like This
Get the Monitor stories you care about delivered to your inbox.