US-bound passengers from 14 countries face new airport security
New airport security rules mean travelers from 14 countries including Nigeria and Yemen will be subject to mandatory extra screening – including full-body pat-downs – before they can board a flight to the US.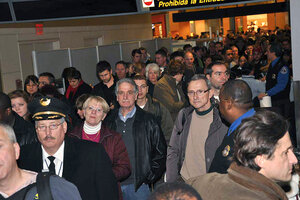 Joshua Brown/REUTERS
Is the US moving towards an airline security system that will be permanently tougher on passengers from certain countries?
That appears likely – if it wasn't already the case – following the Obama administration's move to subject travelers from Yemen, Nigeria, Saudi Arabia, and 11 other countries to mandatory full-body pat-downs, and other extra screening methods, beginning Monday.
Civil rights groups and Muslim anti-discrimination organizations have long complained about a slide towards security measures that are close to racial profiling. But US officials defended the new rules as common-sense moves that are not racial in nature.
"The new directive includes long-term sustainable security measures developed in consultation with law enforcement officials and our domestic and international partners ... effective aviation security must begin beyond our borders," said the Transportation Security Administration (TSA) statement announcing the move.
In some ways, the new rules are a step back from current procedures. Following the failed Christmas Day attempt to bomb a jetliner as it approached Detroit after a flight from Amsterdam, virtually all international air travelers to the US have been subject to extra security procedures.
The alleged suspect, Umar Farouk Abdulmutallab, a Nigerian, told US investigators that he received training and instructions form Al Qaeda operatives in Yemen.
---