Cold weather: winter is chilliest 'in many people's memory'
Cold weather across much of the East has orange growers pulling all-nighters in Florida, city workers in Atlanta scrambling to fix burst pipes, and the homeless struggling in Memphis.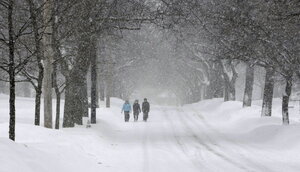 Tony Dejak/AP
Remember those nasty 1970s winters?

Well, Americans are reliving those cold old days right now as cold weather threatens orange and strawberry growers in Florida, has social service crews working overtime in Tennessee, and fracturing old water mains in Atlanta.

Across the South, Midwest, and Eastern seaboard, a stubborn "arctic outbreak," tacked onto an already cold return to work for many Americans, augurs what meteorologist at AccuWeather.com are calling "the coldest winter in many people's memory."

"It'll be like the great winters of the '60s and '70s," says AccuWeather.com chief meteorologist and long range forecaster Joe Bastardi.

It's not just the lows, which are around what the chilly winter of 2002 and 2003 brought. It's the duration and some historic maximums, including a 17 degree F high in Bluefield, W.V., that are worrying farmers, closing schools, and forcing homeless shelter managers to work overtime and loosen rules to find bed space for those seeking shelter.
Impact on oil and gas prices
The impact is likely to be widespread. As part of a global cold spell, crude oil prices are inching up quickly as China, especially, is seeing its coldest and snowiest weather in decades. Natural gas futures also rose steadily as predictions of a chilly winter lifted demand expectations into warmer parts of the country.
---