Realistically, can intelligence analysts stop a terror attack?
Intelligence analysts must go through a sea of data in efforts to prevent another terror attack.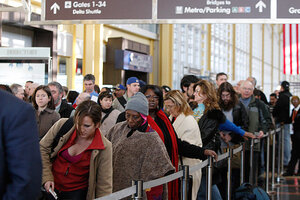 Jason Reed/REUTERS
More than eight years after the 9/11 attacks, Washington is again probing how US analysts failed to "connect the dots" leading up to a terrorist attempt – and how to do better in the future.
That's the aim of a midafternoon meeting with President Obama and 20 top government officials who have been tasked with a review of the Christmas Day incident on Northwest Airlines Flight 253.
It's an exercise Washington has launched before, most notably after the attack on Pearl Harbor in 1941 and after the Sept. 11, 2001, attacks. In both cases, investigators aimed to construct a timeline – who knew what, when they knew it, and what they did with what they knew – to identify missed opportunities and to propose fixes.
At least some of the post-9/11 fixes worked, say Obama administration officials. Threat assessments were available across agency lines – unlike in the run-up to the 9/11 attacks. The name of suspect Umar Farouk Abdulmutallab was on a broad terrorist database maintained by the National Counterterrorism Center (NCTC), which both intelligence and law-enforcement agencies could access.
---