Michigan balks at Obama's stance in Asian carp fight
The Obama administration announced Tuesday that it is backing Illinois in a lawsuit over how to stop Asian carp from entering the Great Lakes. Officials in Michigan, who brought the lawsuit, claim that Obama is favoring his home state.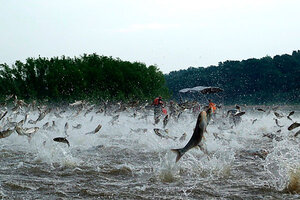 Nerissa Michaels / Illinois River Biological Station via the Detroit free Press / AP
Michigan has reacted angrily to the Obama administration's decision to back Illinois – the president's home state – in a lawsuit about how to stop Asian carp from infesting the Great Lakes.
On Tuesday, US Solicitor General Elena Kagan asked the US Supreme Court to reject Michigan's lawsuit against Illinois. The lawsuit calls for the closure of two Chicago locks on a key commercial canal that connects Lake Michigan to the Mississippi River.
On Wednesday, Michigan Attorney General Mike Cox asked for an immediate meeting with Obama and Michigan congressional leaders to discuss the matter. He said in a public statement he "is extremely disappointed by President Obama's choice to protect the narrow interests of his home state."
Mr. Cox says that the invasive species will put at risk $7 billion in annual revenue from Great Lakes recreational and commercial fishing and tourism.
Illinois State Attorney Lisa Madigan countered the suggestion that presidential favoritism was involved, saying by phone Wednesday that the allegaton "sounds like politics to me, that doesn't sound substantive."
Legal apples to oranges?
---