Schwarzenegger presses for more aid from Washington
Gov. Arnold Schwarzenegger and state lawmakers are asking for about $8 billion in aid from Washington to help plug California 's $20 billion-odd budget hole and prevent more spending cuts.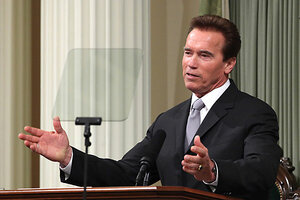 Rich Pedroncelli/AP
Gov. Arnold Schwarzenegger (R) used his State of the State speech Wednesday to continue pressing his case that California's fiscal dilemma is also Washington's worry.
The state faces a $20.7 billion budget shortfall this year. Closing that gap means even more painful cuts after the state, which has seen tax revenues drop and unemployment rates rise amid recession, already slashed about $60 billion in spending last year.
This year, however, the governor and his legislative allies in Sacramento want an infusion of about $8 billion from the federal government to ease the state's financial pain and keep them from having to make additional cuts to social programs. In the coming weeks, many Golden State lawmakers will be taking their case to Washington.
"We are not looking for a federal bailout, just federal fairness," Governor Schwarzenegger said in his speech in Sacramento, echoing a message the governor has been sending California's Congressional delegation for weeks now.
In a Dec. 22 letter to House Speaker Nancy Pelosi (D) of California, Schwarzenegger complained that his state receives an unfair Medicaid reimbursement rate.
He argued that if California's repayment rate were similar to other large state it would add $2.2 billion back into state coffers.
"Federal funds have to be part of our budget solution because the federal government is part of our budget problem. When President Clinton was in office, California got back 94 cents on the dollar from the federal government. Today we get only 78 cents back," Schwarzenegger said Wednesday.
---