John Brennan: We failed on Christmas Day terrorist intelligence
In a review of the Christmas Day terrorist attempt, White House counterterrorism adviser John Brennan says that what should have been clear intelligence warnings fell through the cracks.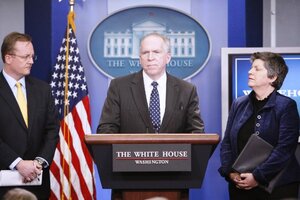 Charles Dharapak/AP
The US had enough intelligence prior to the failed attempt to destroy an airliner bound for Detroit on Christmas Day to indicate such a plot was under way, and to disrupt it, according to the administration review of the incident released Jan. 7. The problem was that intelligence in essence fell through the cracks.
Now the White House is ordering the US intelligence community to plaster those cracks over, by trying to make sure that there is a clear lead agency in charge of each important developing threat.
"What we want to make sure is that for each of these threads there is a lead, and that they are going to move ahead on it," said Deputy National Security Adviser John Brennan at an evening press conference following the review's release.
Nobody has been fired
The review did not call for drastic changes. No one was fired. No agency was called to account by name.
Instead, its overall conclusion seemed to be that intelligence agencies just need to keep doing what they are doing, only faster and in a more coherent manner.
Following the attacks of 9/11, the agencies that together make up the US intelligence community were roundly criticized for not sharing information with one another. This was not the case with the Christmas Day incident, said Mr. Brennan.
"It was a failure to connect and integrate and understand the intelligence we had," he said.
Useful intelligence came two months earlier
---