Five surprises for the music industry in 2009
From a decade-end sales spurt to the resurgence of vinyl, 2009 had some surprises - and good news - for the beleaguered music industry.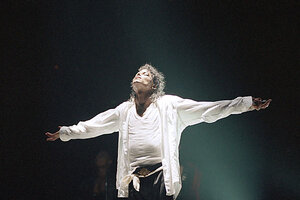 Douglas Pizac/AP/File
Following years of lost revenue from illegal file sharing, the recording industry finally has a reason to cheer: unit sales rose in 2009 for the second year in a row, up by 1.54 billion in 2009, a 2.1 percent increase from the previous year.
About 40 percent of those sales were digital, Nielsen SoundScan says in its year-end report, up from 32 percent in 2008. That's might seem like a no-brainer considering how consumers interact with music today via MP3 players and computers. Here are some less obvious trends:
• Vinyl continues to spin. Remember those black discs? When the industry first started phasing them out for CDs in the mid-1990s, vinyl records were thought to be going the way of the 8-track tape. Not any more. A new generation of enthusiasts is responsible for rising vinyl sales. Nielsen SoundScan reports that vinyl sales grew 33 percent in 2009 from the previous year, an all-time sales record for the format.
• Michael Jackson lives on in his music. By the second half of his career, Mr. Jackson had become more of a tabloid star and his music sales had slipped accordingly. Jackson is not on Nielsen SoundScan's bestsellers list (which dates back to 1991), but after his death in 2009, Jackson's albums sold over eight million copies – twice as much as reigning teen star, Taylor Swift, making Jackson the biggest-selling artist for the year.
---