Job cuts totaled 85,000 last month, dashing expectations
US businesses made job cuts in December, when many had expected Friday's employment report to find a gain in jobs. The unemployment rate remained at 10 percent.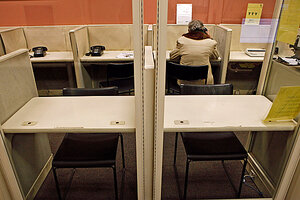 Damian Dovarganes/AP
The US job market hit a pothole in December.
Instead of producing jobs last month, as was expected, the economy instead shed 85,000 positions, the Bureau of Labor Statistics (BLS) reported Friday. At the same time, America's unemployment rate remained stable at 10 percent.
The job loss was a disappointment on Wall Street. Late Friday morning, the stock market was down about 20 points.
"This is not what the market was looking for," says Burt White, chief investment officer at LPL Financial in Boston. "I don't think it derails the fact unemployment is now in a V-shape recovery and improving fast. But nothing improves in a straight line."
Friday's report did have at least one positive development: The November employment number was revised upward to show a gain of 4,000 jobs. Before, it had been reported as a net loss of 11,000 jobs. With the revised number, November became the first month of positive job growth in almost two years.
In fact, the past several months show that corporate layoffs are slowing, many labor-market analysts believe. Still, companies remain gun-shy about hiring new workers or calling back those who have been laid off.
"The new unemployment-claims numbers show layoffs are slowing but hiring is nowhere," says Andrew Stettner of the National Employment Law Project in New York. "The only places that seem to be hiring are temp agencies."
According to the BLS report, temporary-help services added 47,000 jobs in December. Since July, temporary services have added 166,000 jobs.
---