Report: Cell phone distraction causes one in four US car crashes
The report puts the number of car crashes caused by cell phone use and texting at 1.6 million – one million more than previously thought. A new advocacy group against 'distracted driving' is patterned after Mothers Against Drunk Driving.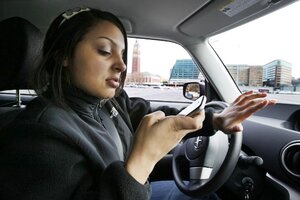 Elaine Thompson/AP
The National Safety Council announced Tuesday its new findings that 1.6 million accidents a year are caused by cell phone use – a number that increases by more than a million earlier official estimates, and gives new fodder to a growing, nationwide anti-distracted driving movement.
According to the organization, 1.4 million crashes are caused by people talking on the phone while driving. Another 200,000 – at least – are caused by drivers texting behind the wheel.
"This number is huge," says David Teater, senior director of transportation strategic initiatives at the National Safety Council, whose 12-year-old son was killed in a crash caused by a driver on a cell phone. "One out of every four car crashes in the United States is caused by cell phone distraction."
'FocusDriven' aims to be like MADD
The organization released the study on the same day as its president and CEO, Jane Froetscher, announced with U.S. Department of Transportation Secretary Ray LaHood the creation of "FocusDriven" – an advocacy group in the style of Mothers Against Drunk Driving that
will work to fight distracted driving.
"Just as groups like MADD changed attitudes about drunk driving, I believe FocusDriven can help raise awareness and change the way people think about distracted driving," LaHood said in announcing the group. "Together, I hope we can put an end to this dangerous practice."
The group will be headed by Jennifer Smith, whose mother was killed by a driver on his cell phone. All five board members have also lost loved ones from cell phone distracted drivers.
---