South Carolina takes aim at lynching law because it hurt blacks
The law originally was designed to stop the Jim Crow-era lynching of black men. But in recent years, South Carolina's lynching law mainly had targeted African-American gang members.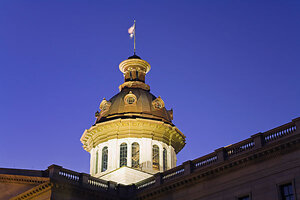 Newscom
In what's being seen as an attempt at redemption by a state touched by recent political embarrassment, a panel of South Carolina lawmakers has voted to change the state's lynching law.
Why? Ostensibly because prosecutors had abused it to put bar-fight participants in prison for up to 20 years. But the real issue ran even deeper, a key lawmaker acknowledges: For decades, the law has been used to address African-American gang activity, with over half of all lynching charges and convictions being levied against blacks.
The South Carolina Sentencing Reform Commission voted Monday to rename the law "assault and battery by a mob" and to soften consequences for situations in which no one was killed or seriously injured in an attack by two or more people on a single victim.
The emotional and historical power of the word "lynching" – especially in the Deep South, where the majority of lynchings happened – has long been seen by critics as especially cruel when applied to instances in which black men are arrested.
'Lynching is a particular type of crime'
---