Commission: three reasons why the financial crisis happened
The Financial Crisis Inquiry Commission hearings have produced one moment of drama and a few theories from regulators and bankers about why the meltdown happened.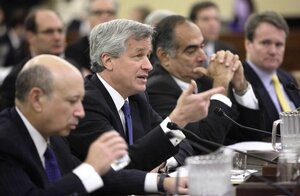 Pablo Martinez Monsivais/AP
Through two days of hearings the Financial Crisis Inquiry Commission has not produced much dramatic confrontation.
True, panel chairman Phil Angelides, a Democrat and former California state treasurer, got into it a bit with Goldman Sachs chief Lloyd Blankfein on Wednesday. They tangled over why Goldman sold bundles of bad mortgages, then turned around and bet its own money that the value of those bundles would fall.
But on the whole the 10 member commission, established by Congress, has methodically interviewed bankers and regulators alike, trying to establish a public record as to why the Great Financial Meltdown of fall 2008 occurred.
Given this restraint, the panel may not turn into a rerun of the Pecora Commission. That long-running inquiry, begun in the early 1930s and named for chief investigator Ferdinand Pecora, was really a Senate investigation. It probed the beginnings of the Great Depression at a time when ordinary Americans were suffering and angry.
How the Senate probed the Great Depression
Pecora investigators armed with subpoena powers bore down on Wall Street titans like a gathering storm, reconstructing deals and exposing practices that were shady, or just surprising. Under Pecora's questioning, J. P. Morgan Jr. admitted that he had paid no income taxes in 1931 and 1932. Pecora discovered that the Morgan bank had a "preferred list" of VIPs who were allowed to buy into stock offerings at deeply discounted prices.
---