California adopts first statewide green building code
California's building commission adopted the first statewide green building code this week. Environmental groups welcomed the new standards, which mandate water use reductions and waste recycling in new buildings, but were critical of its rating system.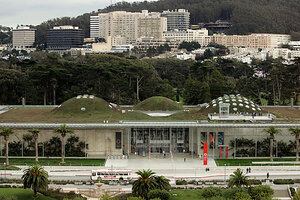 Robert Galbraith/Reuters/File
California continues to take the national lead in environmental protection. The California Building Standards Commission voted unanimously this week to approve the first statewide green building code.
Taking effect January 2011, the nation's first mandatory green building code – dubbed "CalGreen" – lays out specific constraints for newly constructed buildings. It requires builders to install plumbing that cuts indoor water use by as much as 20 percent, to divert 50 percent of construction waste from landfills to recycling, and to use low-pollutant paints, carpets, and floors. It also mandates inspection of energy systems to ensure that heaters, air conditioners, and other mechanical equipment are working efficiently. And for non-residential buildings, it requires the installation of water meters for different uses.
The code also allows local jurisdictions, from San Francisco to Los Angeles, to retain stricter green building standards, if they already exist, or to adopt stricter versions of the state code if they choose. It's the first state in the nation to mandate a green building code.
Environmental and green building groups largely welcomed the new code, though they took issue with certain aspects of it.
---
Follow Stories Like This
Get the Monitor stories you care about delivered to your inbox.