Haiti earthquake: US aid by numbers
US aid efforts for the Haiti earthquake appear to be speeding up. By midweek, a total of 5,000 US military personnel will be in the country, with about 5,000 more on ships offshore.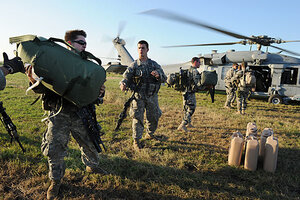 Mary Knox Merrill / The Christian Science Monitor
The security situation in the devastated Haitian capital of Port-au-Prince remains stable, according to US officials.
There are reports of isolated instances of looting, and cases in which desperate refugees have rushed aid locations to try and make sure they receive help, said US Navy Rear Adm. Michael Rogers, the Joint Chiefs of Staff director for Intelligence, in a conference call with reporters on Jan. 18.
But none of these events have interfered with international rescue and food and water distribution efforts, Rogers said.
"There is no sense of widespread panic," he said.
As of Monday afternoon, 71 people had been pulled alive from collapsed buildings by international rescue personnel. Of these, 39 were rescued by US search-and-rescue teams, said Tim Callahan, a senior regional adviser for US Agency for International Development (USAID).
On Monday the approximately 1,700 international rescue personnel in Haiti were continuing to search for people who may still be alive, but trapped amidst crushed concrete and other debris.
That work will probably continue into Tuesday, but the time is approaching when the chance of finding living victims will be so slim as to change the way the teams approach their work.
"Obviously, we are getting close to when you would go from rescue to recovery mode," said Mr. Callahan.
USNS hospital ship on its way
---