Obama at one year: new realism in foreign policy
Less ideological than Bush, Barack Obama pursues a more traditional approach to foreign affairs, marked by a narrower definition of US interests.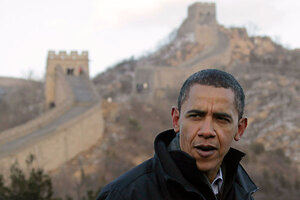 Jason Lee / Reuters
The reference was tucked modestly into a list of individuals cited as the world's true peacemakers at the end of Barack Obama's surprisingly muscular Nobel Peace Prize acceptance speech. "Somewhere today," the president said in December, "a young protester awaits the brutality of her government ... [yet she will] still strive for justice."
The profile in defiant courage he was widely thought to be basing his vision on was Neda Agha Soltan, the young Iranian whose death at the hands of her government during postelection demonstrations in Tehran was captured on video – and became the image viewed round the world.
As shocking as Ms. Soltan's public killing was, though, even more disturbing for many human rights advocates and supporters of an interventionist American foreign policy was President Obama's silence on the actions of the Iranian regime itself. True, Obama would end up criticizing Tehran for its repressive response to the protests – eventually. And he has repeated his muted recognition of Iranian dissidence as the protests have continued in 2010.
But his initial tone was that of an idealist who still wanted to achieve a dialogue with Tehran, which represented the top trophy in the president's vision of conducting diplomacy with America's adversaries.
One year after taking office, it's that tension between the reality that has to be addressed and the ideal to strive for that lies at the foundation of Obama's worldview.
---