2010 Census: what you need to know
The 2010 US Census starts soon. At stake are billions of federal dollars – and maybe your representative's job.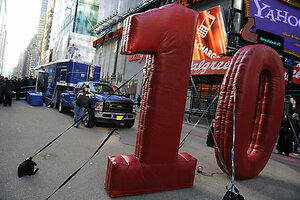 Stan Honda/AFP/Newscom
At the end of this month, a symbolic parade of dog sleds will head across the frozen tundra into Noorvik – an Alaskan fishing village of 634 people, according to the last US census.
On the dog sleds – as well as on some snowmobiles – will be officials carrying census forms. After the forms are filled out, they'll tell the federal government if the Inupiat population of Noorvik has grown or shrunk.
Welcome to the official start of distributing forms for the 2010 Census, a national head count that is required by the US Constitution every 10 years.
Most of the 134 million residences in America will receive their questionnaire the conventional way – via first-class mail, starting March 15. However, not everyone has a postal address – and not everyone will reply to the blue-and-green form. So this year, the Census Bureau is hiring 800,000 people to follow up with door-to-door canvassing, set to begin May 1.
The scope of the census endeavor is Alaska-sized. In fact, it is the largest civic effort that the United States undertakes every decade. Congress has set aside $14 billion for the 2010 operation.
This time, the census form is 10 questions long – a length that officials maintain will take the average person 10 minutes to complete. If the 2000 census effort is any guide, about three-quarters of Americans will participate, despite a $130 million advertising and public-relations campaign.
Here are some common questions about the census:
How will census results be used?
The primary purpose of the census is to determine the apportioning of seats in the US House of Representatives. As a result of the 2000 Census, 18 states gained or lost seats. The biggest winners were Arizona, Florida, Georgia, and Texas, which each picked up two seats. New York and Pennsylvania lost two each. Polidata, a political data consulting firm, has predicted that the 2010 Census will result in a shift of 13 seats, with Texas potentially gaining four.
---