Schwarzenegger goes to Washington to collect $6.9 billion
California Gov. Arnold Schwarzenegger is in Washington Wednesday to lobby for $6.9 billion in federal funds. The governor needs the money to help fill an almost $20 million budget hole and stave off cuts to services.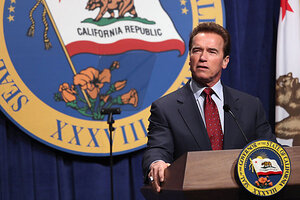 Rich Pedroncelli/AP
California Gov. Arnold Schwarzenegger started calling himself the "Collectinator" shortly after his election in 2003. He had campaigned on becoming the "guy who would get the Feds to give California more money."
Six years later, Mr. Schwarzenegger is in Washington hoping to collect $6.9 billion in federal funds to help plug part of the state's $19.9 billion budget deficit. On Wednesday, the governor met with the California congressional delegation and Health and Human Services Secretary Kathleen Sebelius.
Schwarzenegger's case for more federal help rests on arguments that California gets unfair treatment from Washington. But political analysts say that argument hasn't worked yet, and are skeptical about the governor's chances.
"The likelihood that California receives $7 billion in additional federal funds is low," says Jessica Levinson, political reform director with the Center for Governmental Studies. "While the governor forcefully contends that Californians send more money to Washington than they get back, and that Californians are owed billions, this argument has not been a successful one [before]."
California currently gets 78 cents back in federal services for every dollar it sends to Washington, according to Schwarzenegger.
But this math has been disputed even by other Californians. Sen. Barbara Boxer (D) of California has noted that with the $85 billion allocated in federal stimulus funds last year, the state may be getting closer to $1.45 back from Washington.
---