Obama moves to cut big banks down to size
President Obama Thursday proposed new limits on banks' size as well as their ability to take risks. The move is part of reform measures to avert a repeat of the practices that led to the financial crisis. The stock market fell in response to the news.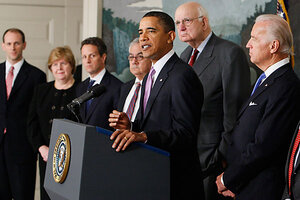 Charles Dharapak/AP
In a continuing effort to reform nation's big financial institutions, President Obama Thursday proposed new rules to limit the size of these institutions and to prevent them from trading for their own accounts instead of for their customers.
Mr. Obama characterized his efforts as one more way to prevent another financial crisis caused by banks that are considered "too big to fail."
The latest plan follows last week's proposal to levy a new tax on the major banks to pay for the $117 billion in losses through the federal government's Troubled Asset Relief Program (TARP), which bailed out the banks and other companies. In a briefing with reporters Thursday, a senior White House official said the President intended to add his new proposals to financial reform legislation that has already passed the US House but not the US Senate.
The President indicated Thursday that he is angry over the banks reporting large profits and handing out significant bonuses after receiving billions of taxpayer dollars to help them through the financial crisis.
"My resolve to reform the system is only strengthened when I see a return to old practices at some of the very firms fighting reform," said Obama, referring to "soaring profits and obscene bonuses."
New restrictions
Obama's proposal would prevent commercial banks from owning, investing in, or even advising hedge funds and private equity funds. Hedge funds deal with sophisticated investors to try to find ways to profit in the markets. Private equity funds invest in businesses that are usually not traded on a stock exchange. Obama also wants to eliminate the ability of the banks to trade for their own accounts – for their own profits – rather than for their customers. The Obama administration considers that practice to be risky.
---