What's behind Toyota's string of recalls?
Toyota's recall Thursday of 2.3 million cars and trucks follows a spate of major recalls last year from the Japanese automaker. Cost-cutting and a push for efficiency may be contributing factors.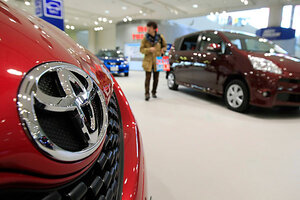 Kim Kyung-Hoon/Reuters
Toyota's recall of 2.3 million cars and trucks is the latest in a string of recalls that could tarnish the Japanese automaker's reputation for safety.
Thursday's announcement recalling several Toyota models because of a flawed gas pedal comes on the heels of one of the worst years for the automaker in terms of recalls. Toyota had nine major recalls in 2009, affecting about 4.9 million vehicles. According to a Detroit Free Press report, that's the most number of vehicles affected by safety recalls of any automaker in a single year.
"People aren't buying Toyotas because they're sporty or sexy, they're buying them because they're practical and reliable," says Jake Fisher, senior automotive engineer at Consumer Reports. "But by chipping away from that, [Toyota is] going to find itself losing customers quite quickly."
What's behind all the recalls? Cost-cutting and a push for efficiency may be two big reasons, says auto safety expert Byron Bloch.
In order to streamline design and production, car manufacturers sometimes share one unique component – say, a pedal accelerator – among many different vehicle models, says Mr. Bloch.
---