GM vows to repay $6.7 billion in bailout money by June
GM said Monday that interim CEO Ed Whitacre will stay on permanently, and Whitacre laid out a plan to pay back federal bailout money. Both announcements were viewed as positive signs.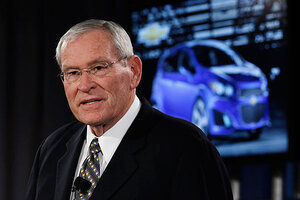 Paul Sancya/AP
General Motors pledged Monday to repay a US Treasury loan that has helped the company survive, and named interim CEO Edward Whitacre as its permanent chief executive.
The move to repay $6.7 billion debt by June signals that America's largest carmaker may be turning a corner out of crisis faster than analysts had expected, even though many challenges remain. The selection of Mr. Whitacre, meanwhile, means that the carmaker now has certainty about top management.
"This move tells the troops that Whitacre is the boss, and everybody should put on their helmets and march forward," says Joe Phillippi, president of AutoTrends Consulting in Short Hills, N.J.
Whitacre, a former telecommunications executive who has moved to Detroit from Texas, made the same point in his own down-home way.
"This place needs some stability. I guess that's me," told reporters at GM's headquarters in downtown Detroit.
---